Application and Business Opportunities of Self-luminous Materials
Views:274 Author:Site Editor Publish Time: 2020-07-10 Origin:Site
Self-luminous materials based on environmental protection, safety, energy saving, and economy are widely used in fire safety, building decoration, military facilities, transportation roads and industries, and daily crafts in western developed countries such as Europe, North America and Japan. Most western countries have passed legislation requiring buildings to use environmentally friendly self-luminous products, and EU countries have also issued corresponding industry standards. Currently, it is used in many buildings and products such as Frankfurt Airport in Germany, Charles de Gaulle Airport, Tokyo Metro in Japan, Deutsche Telekom Building, American Telecommunications Building, World Trade Center Building in New York, London Underground, European Airbus Aircraft, Boeing and McDonnell Douglas Airplanes, etc. , Self-luminous products have been widely used. With the widespread use of such self-luminous materials, self-luminous product industry has initially formed in foreign countries.
In recent years, the Chinese government and related departments have attached great importance to the development of light-emitting self-luminous emergency evacuation systems, and have promulgated corresponding standards and regulations.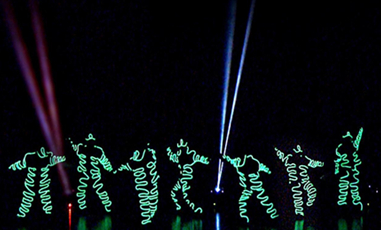 1. On April 19, 1999, the National Quality and Technical Supervision Bureau promulgated the National Standard for Place Name Signs in Urban and Rural Areas (GB17733.1-1999), which was implemented on October 1, 1999. In the production requirements of endemic name signs, street signs,, building signs and house signs, it is clearly stated that the use of long afterglow signs is allowed.
2. On March 14, 2000, the Ministry of Civil Affairs, the Ministry of Transportation, the State Administration for Industry and Commerce, and the State Bureau of Quality and Technical Supervision jointly issued the "Minfa [2000] No. 67" document of the "Notice on the Establishment of Standard Place Name Marks in National Cities". The document states that from the beginning of 2000 to the end of 2004, it would take 5 years to set standard endemic name signs in cities across the country. The contents, specifications and materials of endemic name signs are implemented in accordance with the compulsory national product standard GB1 7733.1-1999 "Endemic Name Signs Urban and Rural" promulgated and implemented by the State Technical Supervision Bureau.
3. On April 30, 2001, Public Consumer [2001] No. 106" document of the Ministry of Public Security of the People's Republic of China's " notified the fire stations of public security departments (bureaus) of provinces, autonomous regions, and municipalities across the country: in order to continuously summarize lessons and curb fire accidents in public gathering places, especially in public entertainment places and underground shopping malls, protecting personal and property safety, properly controlling the safety in engineering construction, and in accordance with the requirements of the national standard formulation and revision, the Fire Bureau of the Ministry of Public Security, with the consent of the Ministry of Construction, organized relevant units to revise the "Code for Fire Protection in Building Design". The revised provisions have been approved by the Ministry of Construction and implemented from May 1, 2001. The contents of the partial revisions are mandatory and must be strictly implemented. In the partial revisions of the three national standards, "Code for Fire Protection in Architectural Design", "Code for Fire Protection in Design of High-rise Civil Buildings" and "Code for Fire Protection in Civil Air Defense Engineering Designs", it is clearly stated that the evacuation walkways such as entertainment venues, commercial business halls, etc, should be equipped with luminous evacuation signs on the ground or on the wall near the ground. The "luminous evacuation signs" include self-luminous light and luminous exit sign, which are suitable for singing and dancing entertainment venues and underground large space, they are used as auxiliary evacuation instructions.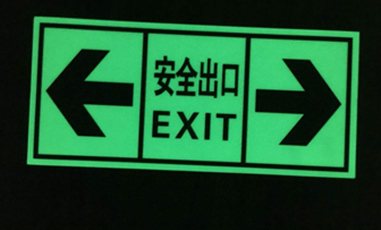 4. Local fire safety agencies throughout the country have also formulated regulations for the mandatory installation of self-illuminated evacuation instructions. For example, on November 2, 2001, the Fire Safety Committee of Jinan City, Shandong Province issued the "Notice on Adding Evacuation Instruction Signs to Public Places in Our City" "Jifangzi [2001] No. 26", notifying fire safety committees and relevant units to immediately paste light storage light-emitting evacuation indication tapes or install inlays on the sides of public evacuation walkways above 1m or in the middle of the walkway floor.
The standards and compulsory documents of light storage self-luminous signs and evacuation system formulated by relevant state agencies will bring great business opportunities for self-luminous materials and self-luminous product manufacturers.